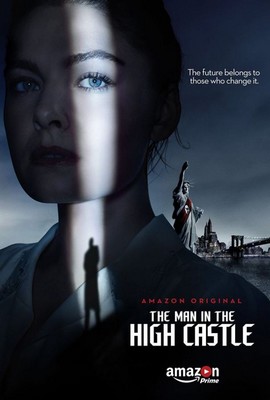 The Man in the High Castle, adaptação de Frank Spotnitz (Arquivo X) e Ridley Scott da obra de Philip K. Dick, publicada em 1962, com roteiro de Spotnitz e a direção de David Semel (Legends, Madam Secretary), a história é situada em um universo no qual a Alemanha nazista e o Império japonês venceram a 2ª Guerra Mundial.
Com a rendição americana e a destruição da população africana, o mundo vive um regime fascista. O ano é 1962, o Império japonês e o governo nazista vivem em guerra fria.
Incapaz de governar em função dos efeitos provocados pela sífilis, Hitler é afastado do poder. Seu Chanceler, Martin Bormann, líder do partido nazista, se tornou o novo governante.
No elenco estão Alexa Davalos (Mob City), Luke Kleintank (Gossip Girl, Pretty Little Liars), Rupert Evans (World Without End, The Village), Cary-Hiroyuki Tagawa (Revenge), Joel De La Fuente (Law and Order: SVU, Hemlock Grove), Rufus Sewell (Eleventh Hour, The Pillars of the Earth, Parade's End) e DJ Qualls (Legit, Z Nation), entre outros.
Continue reading "The Man in the High Castle – 2ª Temporada Legendado" →