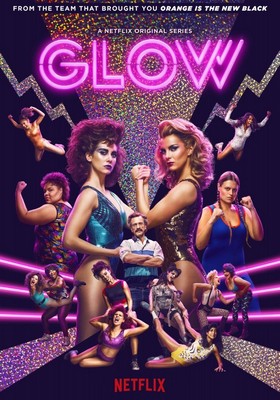 Baseada na adorada série dos anos 80, GLOW conta a história fictícia de Ruth Wilder (Alison Brie, de Mad Men e Community). Ruth é uma atriz desempregada e batalhadora em Los Angeles nos anos 80, que encontra sua última chance de virar estrela ao entrar de cabeça no mundo do glitter e dos colãs da luta livre de mulheres.
Além de trabalhar com 12 mulheres excêntricas de Hollywood, Ruth precisa competir com Debbie Eagan (Betty Gilpin, de Nurse Jackie e Masters of Sex), uma ex-atriz de novelas que deixou sua carreira de lado para ser mãe, mas voltou ao trabalho quando percebeu que sua vidinha perfeita não era bem o que parecia ser. Dirigindo todas elas está Sam Sylvia (Marc Maron), um diretor de filmes de segunda categoria, acabado e viciado em cocaína, que agora precisa liderar este grupo de mulheres em uma jornada rumo ao estrelato da luta livre.
Formato: MP4 • Nº de episódios: 10
Áudio: Inglês • Legenda: Português
Download: HTTP • Armazenamento: Pastas
Dificuldade para baixar? Clique Aqui
• Lista de Episódios •
1×01 – Pilot
1×02 – Slouch. Submit.
1×03 – The Wrath of Kuntar
1×04 – The Dusty Spur
1×05 – Debbie Does Something
1×06 – This Is One of Those Moments
1×07 – Live Studio Audience
1×08 – Maybe It's All the Disco
1×09 – The Liberal Chokehold
1×10 – Money's in the Chase (Season Finale)
Link quebrado? Avisem-nos.