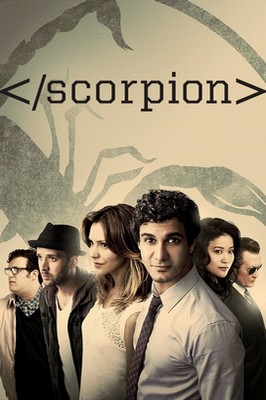 Projeto de Alex Kurtzman e Roberto Orci, ambos de Sleepy Hollow, com roteiro de Nick Santora (Breakout Kings), a história é inspirada na vida de Walter O'Brien.
Scorpion apresenta a vida de Walter (Elyes Gabel, de Psychoville, Game of Thrones e Body Of Proof), o homem com o quarto QI mais elevado do mundo. Com o objetivo de oferecer soluções para os problemas do mundo, ele monta a Scorpion, uma empresa para a qual recruta pessoas com os melhores intelectos. Agora, além de unirem suas mentes para resolver problemas de relevância global, eles também ajudam uns aos outros a se sentirem partes integrantes da sociedade.
Entre os membros da equipe estão Toby (Eddie Kaye Thomas, de American Pie), um gênio especializado no comportamento humano; Happy (Jadyn Wong, de Being Erica), gênio da mecânica; e Sylvester (Ari Stidham, de Huge), um gênio das estatísticas.
No elenco também estão Katharine McPhee (Smash), como Paige, uma garçonete que compreende a genialidade de seus clientes; e Robert Patrick (Arquivo X, From Dusk Till Dawn: The Series, True Blood) como Cabe Gallo, um agente federal que trabalha com o grupo.


Formato: rmvb • Nº de episódios: 25
Áudio: Inglês • Legenda: Português
Download: HTTP • Armazenamento: Pastas
Dificuldade para baixar? Clique Aqui
• Lista de Episódios •
3×01/02 – Civil War / More Civil War
3×03 – It Isn't the Fall That Kills You
3×04 – Little Boy Lost
3×05 – Plight at the Museum
3×06 – Bat Poop Crazy
3×07 – We're Gonna Need a Bigger Vote
3×08 – Sly and the Family Stone
3×09 – Mother Load
3×10 – This Is the Pits
3×11 – Wreck the Halls
3×12 – Ice Ca-Cabes
3×13 – Faux Money Maux Problems
3×14 – The Hole Truth
3×15 – Sharknerdo
3×16 – Keep It In Check, Mate
3×17 – Dirty Seeds, Done Dirt Cheap
3×18 – Don't Burst My Bubble
3×19 – Monkey See, Monkey Poo
3×20 – Broken Wind
3×21 – Rock Block
3×22 – Strife on Mars
3×23 – Something Burrowed, Something Blew
3×24 – Maroon 8
3×25 – Scorp Family Robinson (Season Finale)
Link quebrado? Avisem-nos.