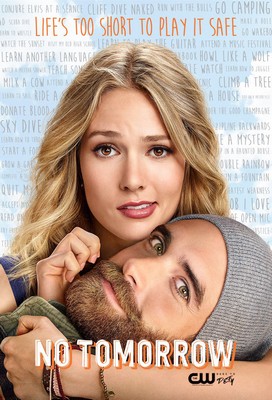 No Tomorrow é uma adaptação de Corinne Brinkerhoff (The Good Wife) e Ben Silverman (Jane the Virgin), da minissérie brasileira Como Aproveitar o Fim do Mundo, de Fernanda Young e Alexandre Machado, produzida em 2012 com um total de oito episódios.
Nesta comédia romântica, Evie (Tori Anderson), avessa a correr riscos, é uma mulher de conduta rígida que trabalha como gerente de compras de uma loja online. Ela se apaixona por Xavier (Joshua Sasse, de Galavant), um homem que aproveita a vida ao máximo por acreditar que o fim do mundo ocorrerá em oito meses e doze dias, quando um asteróide colidirá com a Terra. Juntos, eles iniciam a missão de realizar todos os itens que estão em sua lista de "coisas a fazer antes que o mundo acabe".


Formato: rmvb • Nº de episódios: 13
Áudio: Inglês • Legenda: Português
Download: HTTP • Armazenamento: Pastas
Dificuldade para baixar? Clique Aqui
• Lista de Episódios •
1×01 – Pilot
1×02 – No Crying in Baseball
1×03 – No Doubt
1×04 – No Holds Barred
1×05 – No Regrets
1×06 – No Debts Remain Unpaid
1×07 – No You Say it First
1×08 – No Rest for the Weary
1×09 – No Truer Words
1×10 – No Soup for You
1×11 – No Woman No Cry
1×12 – No Time Like the Present
1×13 – No Sleep 'Til Reykjavik (Series Finale)
Link quebrado? Avisem-nos.