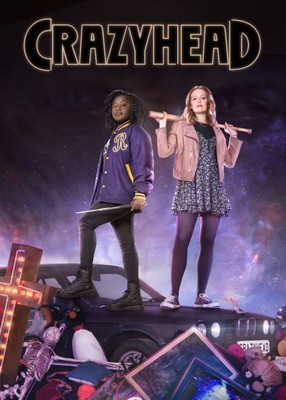 Crazyhead é uma comédia de horror criada por Howard Overman (Misfits).
Na história, alguns espíritos, após a morte do corpo, continuam vagando pela Terra na tentativa de finalizar tarefas. Para tanto, esses espíritos precisam tomar posse de corpos que ainda estão vivos. Quando não estão possuindo algum corpo, eles caminham livremente.
Em meio aos vivos está Amy (Cara Theobold, de Together, Downton Abbey), uma jovem que trabalha em um boliche. Ela e sua amiga Raquel (Susan Wokoma, de Chewing Gum, Crashing), uma autodenominada caçadora de demônios, assumem a missão de livrar a humanidade desses espíritos atormentados.


Formato: rmvb • Nº de episódios: 06
Áudio: Inglês • Legenda: Português
Download: HTTP • Armazenamento: Pastas
Dificuldade para baixar? Clique Aqui
• Lista de Episódios •
1×01 – A Very Trippy Horse
1×02 – A Pine Fresh Scent
1×03 – Shave the Cat
1×04 – Penguin or Cow?
1×05 – Downward Facing Dog
1×06 – Beaver with a Chainsaw (Season Finale)
Link quebrado? Avisem-nos.