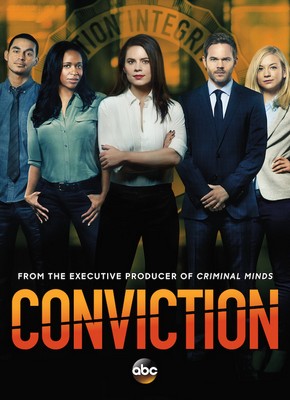 Conviction é uma série criada por Mark Gordon (Quantico) e Liz Friedman (Elementary, Jessica Jones).
Trata-se de um drama político no qual Carter Morrison (Hayley Atwell, de Agent Carter), filha rebelde de um ex-Presidente dos EUA, é obrigada a assumir o comando da Conviction Integrity Unit, na qual trabalha ao lado de investigadores, advogados e especialistas forenses. O objetivo da Unidade é o de reexaminar casos nos quais possam existir suspeitas de que um inocente foi condenado pelo crime.
No elenco estão Emily Kinney (The Walking Dead, Masters of Sex, The Knick), Eddie Cahill (CSI: New York, Under the Dome), Shawn Ashmore (X-Men, The Following), Merrin Dungey (Alias, Once Upon a Time, Chassing Life), Manny Montana (Graceland), Daniel Franzese (Looking) e Ian Paola (Orange is the New Black).


Formato: rmvb • Nº de episódios: 13
Áudio: Inglês • Legenda: Português
Download: HTTP • Armazenamento: Pastas
Dificuldade para baixar? Clique Aqui
• Lista de Episódios •
1×01 – Pilot
1×02 – Bridge and Tunnel Vision
1×03 – Dropping Bombs
1×04 – Mother's Little Burden
1×05 – The 1% Solution
1×06 – #StayWoke
1×07 – A Simple Man
1×08 – Bad Deals
1×09 – A Different Kind of Death
1×10 – Not Okay
1×11 – Black Orchid
1×12 – Enemy Combatant
1×13 – Past, Prologue & What's to Come (Series Finale)
Link quebrado? Avisem-nos.