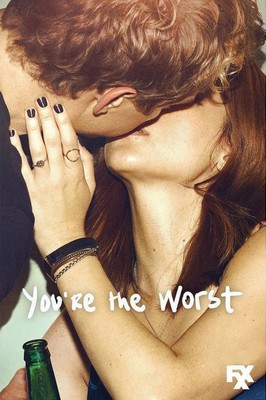 You're the Worst é uma sitcom criada por Stephen Falk (Weeds, Orange is the New Black).
A história acompanha a vida de Jimmy (Chris Geere, de The Spa e Trollied) e Gretchen (Aya Cash, de Traffic Light e We Are Men), duas pessoas auto-destrutivas que se apaixonam.
Jimmy é um rapaz comunicativo mas insensível que trabalha como escritor em Los Angeles. Ele conhece Gretchen quando os dois passam uma noite juntos. Ela é uma jovem que cresceu acreditando ser perfeita em tudo. Mas agora ela se dá conta de que sua vida não é exatamente aquilo que ela imaginou que seria. Sem dinheiro e com quase trinta anos, ela trabalha como assessora de um grupo hip-hop, formado por pessoas imaturas.
Apesar de todos os problemas pessoais, Jimmy e Gretchen tentam construir uma relação.


Formato: rmvb • Nº de episódios: 13
Áudio: Inglês • Legenda: Português
Download: HTTP • Armazenamento: Pastas
Dificuldade para baixar? Clique Aqui
• Lista de Episódios •
3×01 – Try Real Hard
3×02 – Fix Me, Dummy
3×03 – Bad News: Dude's Dead
3×04 – Men Get Strong
3×05 – Twenty-Two
3×06 – The Last Sunday Funday
3×07 – The Only Thing That Helps
3×08 – Genetically Inferior Beta Males
3×09 – The Seventh Layer
3×10 – Talking to Me, Talking to Me
3×11 – The Inherent, Unsullied Qualitative Value of Anything
3×12 – You Knew It Was a Snake
3×13 – No Longer Just Us (Season Finale)
Link quebrado? Avisem-nos.