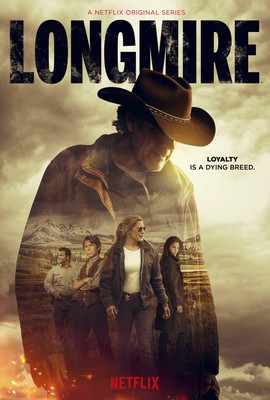 A história gira em torno de Walt Longmire (Robert Taylor, de Satisfaction), um veterano do Vietnã que agora atua como xerife de Absaroka, uma cidade rural do Wyoming. Ele tem como assistente a oficial Victoria Moretti (Katee Sackhoff, de Battlestar Galactica), ex-detetive da homicídios da Filadélfia. Outro assistente é Branch Connally (Bailey Chase, de Saving Grace), um jovem ambicioso que espera disputar com Longmire o cargo de xerife nas próximas eleições.
O melhor amigo de Walt é o índio Cheyenne Henry (Lou Diamond Phillips, de Stargate Universe), que tenta fazer com que ele aproveite melhor a vida. Viúvo, esse sujeito durão, de poucas palavras e dedicado ao trabalho (no qual sempre segue as regras) tem apenas uma alegria na vida: sua filha Cady (Cassidy Freeman, de Smallville), uma advogada.
Formato: rmvb • Nº de episódios: 10
Áudio: Inglês • Legenda: Português
Download: HTTP • Armazenamento: Pastas
Dificuldade para baixar? Clique Aqui
• Lista de Episódios •
5×01 – A Fog That Won't Lift
5×02 – One Good Memory
5×03 – Chrysalis
5×04 – The Judas Wolf
5×05 – Pure Peckinpah
5×06 – Objection
5×07 – From This Day Forward
5×08 – Stand Your Ground
5×09 – Continual Soirée
5×10 – The Stuff Dreams Are Made Of (Season Finale)
Link quebrado? Avisem-nos.