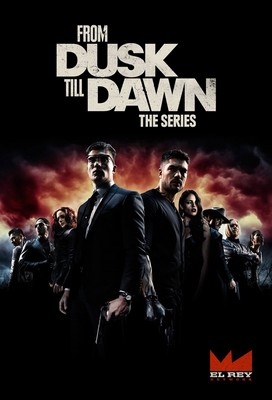 Adaptação do filme cult Um Drink no Inferno, de 1996 — que teve Harvey Keitel, George Clooney, Juliette Lewis e Quentin Tarantino no elenco —, a série segue os irmãos e ladrões de banco Seth (D.J. Cotrona, de Detroit 1-8-7) e Richie Gecko (Zane Holtz, de Make It or Break It) enquanto eles fogem do FBI e do xerife Earl McGraw (Don Johnson, de Miami Vice). A produção conta com o mesmo cenário do longa metragem de Robert Rodriguez, no qual um grupo se refugia em um bordel que é, na verdade, um lar para vampiros. O diretor do longa-metragem trabalha como um dos produtores-executivos da série.


Formato: rmvb • Nº de episódios: 10
Áudio: Inglês • Legenda: Português
Download: HTTP • Armazenamento: Pastas
Dificuldade para baixar? Clique Aqui
• Lista de Episódios •
3×01 – Head Games
3×02 – La Reina
3×03 – Protect and Serve
3×04 – Fanglorious
3×05 – Shady Glen
3×06 – Straitjacket
3×07 – La Llorona
3×08 – Rio Sangre
3×09 – Matanzas
3×10 – Dark Side of the Sun (Season Finale)
Link quebrado? Avisem-nos.