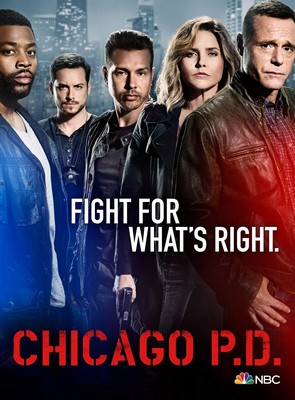 Criada por Michael Brandt e Derek Haas, Chicago PD acompanha os trabalhos de dois grupos da polícia de Chicago que atuam no Distrito 21. Um dos grupos é formado por policiais que atuam nas ruas e o segundo é o grupo que forma a Unidade de Inteligência, encarregada de investigar crimes graves, como aqueles cometidos por organizações criminosas e traficantes, além de casos que envolvem assassinatos com grande repercussão na imprensa. O líder da Unidade de Inteligência é o Sargento Hank Voight (Jason Beghe, de Californication e Chicago Fire), um homem que exige o máximo de seus subordinados. Sob seu comando está o detetive Antonio Dawson (Jon Seda, de Treme e Chicago Fire), um sujeito ambicioso que costuma bater de frente com Voight.
A série também é estrelada por Jesse Lee Soffer (The Mob Doctor) como Detetive Jay Halstead; Sophia Bush (One Tree Hill e Partners) como Detetive Erin Lindsay; LaRoyce Hawkins como Oficial Kevin Atwater; Patrick John Flueger (Scoundrels) como Kyle Ruzak; Elias Koteas (The Killing) como Alvin Olinsky; Marina Squerciati (Gossip Girl e vista em The Americans) como Oficial Kim Burgess e Archie Kao (CSI) como Detetive Sheldon Jin.
Formato: rmvb • Nº de episódios: 23
Áudio: Inglês • Legenda: Português
Download: HTTP • Armazenamento: Pastas
Dificuldade para baixar? Clique Aqui
• Lista de Episódios •
4×01 – The Silos
4×02 – Made a Wrong Turn
4×03 – All Cylinders Firing
4×04 – Big Friends, Big Enemies
4×05 – A War Zone
4×06 – Some Friend
4×07/08 – 300,000 Likes / A Shot Heard Round the World
4×09 – Don't Bury This Case, Part 2
A história começa no episódio "5×09 – Some Make It, Some Don't, Part 1" de Chicago Fire. Baixe clicando AQUI.
4×10 – Don't Read the News
4×11 – You Wish
4×12 – Sanctuary
4×13 – I Remember Her Now
4×14 – Seven Indictments
4×15 – Favor, Affection, Malice or Ill-Will
4×16 – Emotional Proximity, Part 2
A história começa no episódio "5×15 – Deathtrap, Part 1" de Chicago Fire. Baixe clicando AQUI. E termina no episódio "1×01 – Fake, Part 3" de Chicago Justice. Baixe clicando AQUI.
4×17 – Remember The Devil
4×18 – Little Bit of Light
4×19 – Last Minute Resistance
4×20 – Grasping for Salvation
4×21 – Fagin
4×22 – Army of One
4×23 – Fork in the Road (Season Finale)
Link quebrado? Avisem-nos.