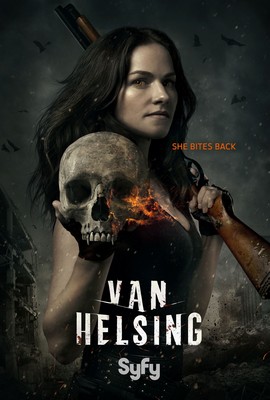 Criada por Neil LaBute, a história gira em torno de Vanessa Helsing (Kelly Overton, de True Blood, Legends), filha de Abraham Van Helsing, caçador de vampiros.
Ao acordar cinco anos no futuro, ela descobre que os vampiros tomaram conta do mundo. Cabe a ela, com seus poderes, liderar uma ofensiva para recuperar o controle do que sobrou do planeta.
Sua missão é a de localizar um buraco no céu do Colorado por onde os raios do sol são tão poderosos que se tornam capazes de eliminar os vampiros. No caminho, ela e seu grupo encontram humanos e vampiros, alguns amigáveis, outros inimigos que farão qualquer coisa para destruí-los.
No elenco estão Jonathan Scarfe (Hell on Wheels, Perception), Christopher Heyerdahl (Stargate Atlantis, Hell on Wheels), David Cubitt (Medium), Paul Johansson (Mad Men, One Tree Hill), Tim Guinee (Hell On Wheels, The Good Wife) e Aleks Paunovic (iZombie, The 100, Continuum).
Formato: rmvb • Nº de episódios: 13
Áudio: Inglês • Legenda: Português
Download: HTTP • Armazenamento: Pastas
Dificuldade para baixar? Clique Aqui
• Lista de Episódios •
1×01 – Pilot
1×02 – Seen You
1×03 – Stay Inside
1×04 – Coming Back
1×05 – Fear Her
1×06 – Nothing Matters
1×07 – For Me
1×08 – Little Thing
1×09 – Help Out
1×10 – Stay Away
1×11 – Last Time
1×12 – He's Coming
1×13 – It Begins (Season Finale)
Link quebrado? Avisem-nos.