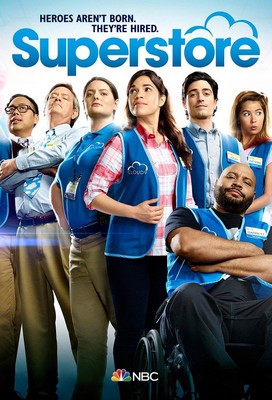 Situada em uma grande loja de departamentos, a história gira em torno dos relacionamentos e a rotina dos funcionários. Jonah (Ben Feldman, de Mad Men) é um recém formado que nunca trabalhou e agora começa a vivenciar o mundo como um adulto. Inicialmente, seu comportamento elitista o afasta dos demais colegas mas, com o tempo, seu carisma e otimismo acaba por conquistá-los.
Entre eles, Amy (America Ferrera, de Ugly Betty), supervisora de um dos departamentos da loja que passa a olhar a vida com outros olhos quando conhece Jonah. Glenn (Mark McKinney, de Man Seeking Woman) é o diretor da loja, um homem extremamente religioso, que tem como assistente Dina (Lauren Ash, de Super Fun Night), mulher totalmente dedicada ao trabalho, a ponto de deixar sua vida pessoal de lado.
Entre os funcionários também estão Garrett (Colton Dunn), o anunciante dos produtos da loja que costuma fazer comentários sarcásticos e filosóficos no alto-falante; e Mateo (Nico Santos), um dos funcionários que tem onze irmãos, muitos deles encarcerados por algum crime. Para Mateo, o emprego é sua oportunidade de subir na vida, razão pela qual ele não deixará ninguém impedir sua ascensão.
Formato: rmvb • Nº de episódios: 21 + 1 Especial
Áudio: Inglês • Legenda: Português
Download: HTTP • Armazenamento: Pastas
Dificuldade para baixar? Clique Aqui
• Lista de Episódios •
2×00 Special – Olympics
2×01 – Strike
2×02 – Back to Work
2×03 – Guns, Pills and Birds
2×04 – Spokesman Scandal
2×05 – Dog Adoption Day
2×06 – Employee Theft
2×07 – Election Day
2×08 – Seasonal Help
2×09 – Black Friday
2×10 – Lost and Found
2×11 – Rebranding
2×12 – Ladies' Lunch
2×13 – Valentine's Day
2×14 – Super Hot Store
2×15 – Wellness Fair
2×16 – Integrity Award
2×17 – Mateo's Last Day
2×18 – Glenn's Kids
2×19 – Spring Cleaning
2×20 – Cheyenne's Wedding
2×21 – Tornado (Season Finale)
Link quebrado? Avisem-nos.