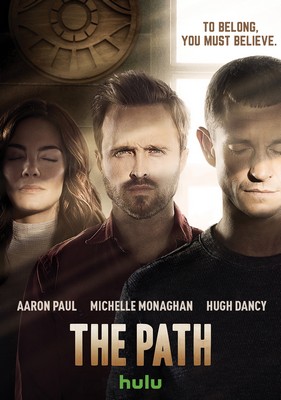 Criada por Jessica Goldberg e Jason Katims, ambos de Parenthood, e Michelle Lee, a série é a primeira estrelada por Aaron Paul, que conquistou a fama quando estrelou Breaking Bad.
Na história, ele é Eddie Cleary, casado com Sarah (Michelle Monaghan, de True Detective), com quem integra a seita religiosa The Way, em uma pequena cidade rural. Ao longo da série, o público verá a luta do casal para manter seu relacionamento e sua fé em Deus.
Quando a passagem de um tornado provoca um desastre natural na região, Eddie começa a sofrer uma crise de fé, que abala sua relação com Sarah. Esta, por sua vez, suspeita que o marido esteja mantendo um relacionamento com Miranda Frank (Minka Kelly, de Friday Night Lights), uma das seguidoras da seita liderada por Cal Roberts (Hugh Dancy, de Hannibal e The Big C), um homem que luta contra seus demônios na tentativa de manter a organização ativa. Cal é filho de Brenda (Kathleen Turner, de Californication, Friends), com quem não consegue manter um bom relacionamento.


Formato: rmvb • Nº de episódios: 10
Áudio: Inglês • Legenda: Português
Download: HTTP • Armazenamento: Pastas
Dificuldade para baixar? Clique Aqui
• Lista de Episódios •
1×01 – What the Fire Throws
1×02 – The Era of The Ladder
1×03 – A Homecoming
1×04 – The Future
1×05 – The Hole
1×06 – Breaking and Entering
1×07 – Refugees
1×08 – The Shore
1×09 – A Room of One's Own
1×10 – The Miracle (Season Finale)
Link quebrado? Avisem-nos.