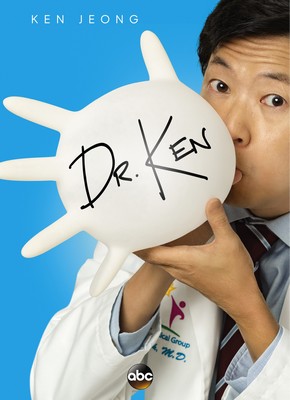 Na história, Ken Jeong (Community, Se Beber Não Case) interpreta Dr. Ken, um brilhante médico esforçando-se para ser um bom profissional, marido e pai. Mas sua tendência a dizer o que pensa da forma como bem entende atrapalha um pouco. Ken é casado com Allison (Suzy Nakamura, de Go On), uma ex-artista, agora terapeuta, que mantém um comportamento Zen perto das loucuras do marido. O casal tem dois filhos, Dave (Albert Tsai, de Trophy Wife), um garoto inteligente e adorável; e Molly (Krista Marie Yu), uma jovem que tenta ser rebelde.
No hospital, Ken trabalha sob as ordens de Pat (Dave Foley, visto em The Middle e Hot in Cleveland), que não vê muita diferença entre pacientes e máquinas, pois o que conta são os dólares. Razão pela qual ele gostaria que o Dr. Ken conseguisse priorizar o lucro e não os pacientes. Entre seus colegas de trabalho estão Damona (Tisha Campbell-Martin, de Eu, a Patroa e as Crianças e The Protector), a recepcionista; Julie (Kate Simses, de Mixology), uma residente ingênua que admira o Dr. Ken, e Clark (Jonathan Slavin), um enfermeiro com um grande coração e amigo leal do doutor, a quem venera.


Formato: rmvb • Nº de episódios: 22
Áudio: Inglês • Legenda: Português
Download: HTTP • Armazenamento: Pastas
Dificuldade para baixar? Clique Aqui
• Lista de Episódios •
1×01 – Pilot
1×02 – The Seminar
1×03 – Ken Helps Pat
1×04 – Kevin O'Connell
1×05 – Halloween Aversary
1×06 – Ken Teaches Molly a Lesson
1×07 – Dr. Wendi: Coming to L.A.!
1×08 – Thanksgiving Culture Clash
1×09 – Ken Cries Foul
1×10 – The Master Scheduler
1×11 – Delayed in Honolulu
1×12 – Ken's Physical
1×13 – D.K. and the Dishwasher
1×14 – Dave's Valentine
1×15 – The Wedding Sitter
1×16 – Meeting Molly's Boyfriend
1×17 – Ken at the Concert
1×18 – Dicky Wexler's Last Show
1×19 – Ken's an Expert Witness
1×20 – Dave's Sex Talk
1×21 – Korean Men's Club
1×22 – Ken Tries Stand-Up (Season Finale)
Link quebrado? Avisem-nos.