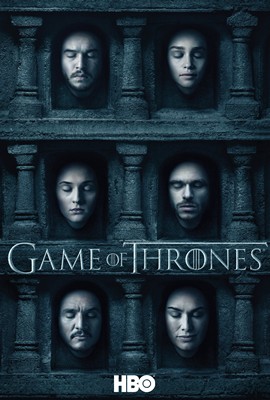 "Game of Thrones" é uma série original da HBO baseada nos romances best-seller de George R.R. Martin. Em um mundo onde verões atravessam décadas e invernos podem durar toda a vida, a coroa de Westeros vem com um preço. Traição, luxúria, intriga e forças sobrenaturais balançam os quatro cantos do Reino, do planejante sul e as selvagens terras orientais, até o norte congelado e a antiga Muralha que protege o reino da escuridão além. Reis e rainhas, cavaleiros e renegados, mentirosos e nobres irão competir pelo poder na sangrenta luta pelo Trono de Ferro.


Formato: rmvb • Nº de episódios: 10
Áudio: Inglês • Legenda: Português
Download: HTTP • Armazenamento: Pastas
Dificuldade para baixar? Clique Aqui
• Lista de Episódios •
6×01 – The Red Woman
6×02 – Home
6×03 – Oathbreaker
6×04 – Book of the Stranger
6×05 – The Door
6×06 – Blood of My Blood
6×07 – The Broken Man
6×08 – No One
6×09 – Battle of the Bastards
6×10 – The Winds of Winter (Season Finale)
Link quebrado? Avisem-nos.