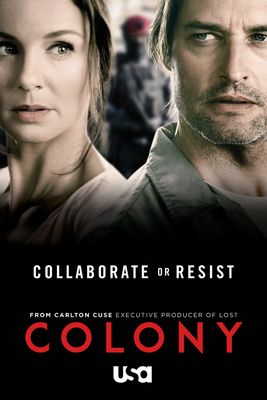 Colony é uma série criada por Carlton Cuse (Lost, Bates Motel) e Ryan Condal (Hercules).
A história é situada no futuro próximo, período em que a cidade de Los Angeles está sob ocupação e cercada por um grande muro. Algumas pessoas colaboram com a nova ordem, outros se rebelam e sofrem as consequências. Em meio a tudo isso, uma família tenta se manter unida enquanto a raça humana luta para sobreviver.
A família é formada por Will Bowman (Josh Holloway, de Lost, Intelligence), um ex-agente do FBI que se vê forçado a colaborar com o governo. Sua missão é a de acabar com o movimento de resistência. Will é casado com Katie (Sarah Wayne Callies, de The Walking Dead), com quem tem um filho, Bram (Alex Neustaedter), um garoto que se vê obrigado a deixar rapidamente a infância para se tornar adulto.


Formato: rmvb • Nº de episódios: 10
Áudio: Inglês • Legenda: Português
Download: HTTP • Armazenamento: Pastas
Dificuldade para baixar? Clique Aqui
• Lista de Episódios •
1×01 – Pilot
1×02 – Brave New World
1×03 – 98 Seconds
1×04 – Blind Spot
1×05 – Geronimo
1×06 – Yoknapatawpha
1×07 – Broussard
1×08 – In from the Cold
1×09 – Zero Day
1×10 – Gateway (Season Finale)
Link quebrado? Avisem-nos.