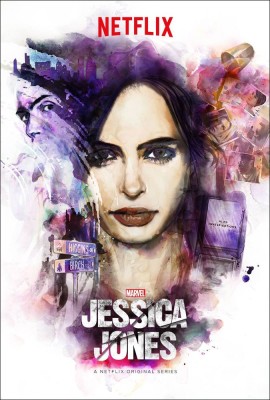 Jessica Jones, adaptação de Melissa Rosenberg (Red Widow, Dexter) e Brian Bendis (Powers) de HQ da Marvel.
Desde que sua curta jornada como super-heroína terminou em tragédia, Jessica Jones (Krysten Ritter, de Apartment 23) vem reconstruindo sua vida pessoal e carreira como uma temperamental e sarcástica detetive particular em Hell's Kitchen, bairro de Nova York. Atormentada por autodepreciação e um forte caso de estresse pós-traumático, Jessica luta contra demônios interiores e exteriores, usando suas extraordinárias habilidades para aqueles que precisam… especialmente se eles estão dispostos a pagar a conta.
No elenco estão Rachael Taylor (666 Park Avenue, Crisis), Eka Darville (The Originals, Empire), David Tennant (Doctor Who, Gracepoint, Broadchurch), Carrie-Anne Moss (Matrix, Vegas), Wil Traval (Red Widow), Mike Colter (Ringer, The Following, The Good Wife) e Erin Moriarty (Red Widow).
Formato: MP4 • Nº de episódios: 13
Áudio: Inglês • Legenda: Português
Download: HTTP • Armazenamento: Pastas
Dificuldade para baixar? Clique Aqui
• Lista de Episódios •
1×01 – AKA Ladies Night
1×02 – AKA Crush Syndrome
1×03 – AKA It's Called Whiskey
1×04 – AKA 99 Friends
1×05 – AKA The Sandwich Saved Me
1×06 – AKA You're a Winner!
1×07 – AKA Top Shelf Perverts
1×08 – AKA WWJD?
1×09 – AKA Sin Bin
1×10 – AKA 1,000 Cuts
1×11 – AKA I've Got the Blues
1×12 – AKA Take a Bloody Number
1×13 – AKA Smile (Season Finale)
Link quebrado? Avisem-nos.