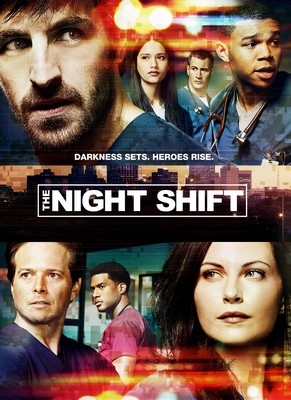 The Night Shift é um drama médico no qual um militar que atuou no exterior retorna aos EUA, onde passa a trabalhar no turno da noite de um hospital de San Antonio.
TC Callahan (Eoin Macken, de Merlin) é o líder da equipe médica. Utilizando métodos pouco ortodoxos, ele costuma bater de frente com seus superiores. Entre eles, Michael Ragosa (Freddy Rodriguez, de Six Feet Under, Ugly Betty e Chaos), um ex-estudante de medicina que deixou a faculdade por causa de problemas na vista. Agora, ele é o administrador do hospital no turno da noite, um verdadeiro burocrata, mais interessado em cortar custos que salvar pacientes. Ele precisa se cuidar para não perder o cargo para a Dra. Jordan Alexander (Jill Flint, de The Good Wife e Royal Pains), ex-namorada de TC e a segunda no comando do hospital.
Na equipe de médicos também estão Paul Cummings (Robert Bailey Jr.), um jovem e ambicioso residente; Topher (Ken Leung, de Lost, Person of Interest e Zero Hour), cirurgião que atuou na guerra; Krista (Jeananne Goossen, de Alcatraz), médica residente que costuma se preocupar com as aparências; Dra. Landry de La Cruz (Daniella Alonso, de One Tree Hill, Friday Night Lights e Revolution), psiquiatra; Drew (Brendan Fehr, de Roswell, CSI: Miami e Bones), ex-militar; e Althea (Brigid Brannagh, de Army Wives). Entre os enfermeiros do hospital estão Jocelyn Diaz (Alma Sisneros), Kenny (JR Lemon) e Tom Costain (Brandon K. Hampton, de Friday Night Lights).
Continue reading "The Night Shift – 4ª Temporada Legendado" →