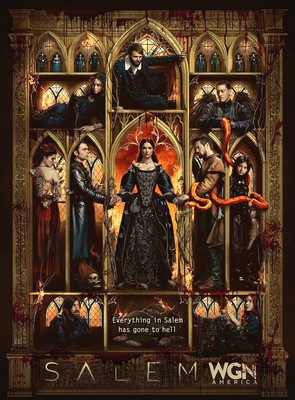 Criada por Brannon Braga (Jornada nas Estrelas, 24 Horas) e Adam Simon, a história apresenta a origem da caça às bruxas na cidade de Salem.
No Século XVII, Mary Sibley (Janet Montgomery, de Made in Jersey e Dancing on the Edge) é a ex-namorada de John Alden (Shane West, de Nikita), um homem que há dez anos partiu para a guerra, sendo capturado pelos índios. Agora ele volta para Salem, onde encontra Mary casada com George, um homem mais velho que ela, porém rico e membro do Conselho da cidade. Mas sua maior surpresa é descobrir que a cidade está dominada pelo delírio da caça às bruxas, liderada pelo aristocrata Cotton Mather (Seth Gabel, de Fringe).
No elenco também estão Ashley Madekwe (Bedlam, Revenge), Azure Parsons (vista em Death Valley e True Detective), Morgana Shaw, Diane Salinger (Carnivale), Xander Berkeley (Nikita, The Mentalist) e Elise Eberle.