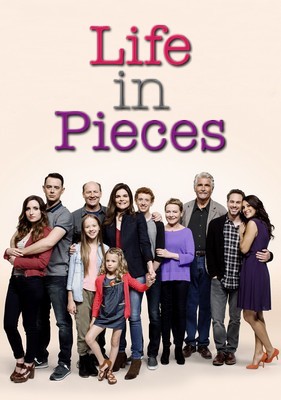 Life in Pieces narra a história da família Short. Joan (Dianne Wiest, de In Treatment) e John Short (James Brolin, de Marcus Welby, Pensacola) são um casal da terceira idade, pais de três filhos: Matt (Thomas Sadoski, de The Newsroom), que se viu forçado a voltar a morar com os pais quando perdeu o emprego; Greg (Colin Hanks, de Fargo), casado com Jen (Zoe Lister Jones, de Friends With Better Lives), com quem tem um menino recém nascido; e Heather (Betsy Brandt, de Breaking Bad), casada com Tim (Dan Bakkedahl, de The Mindy Project, The Goldbergs), com quem tem três filhos que estão entrando na adolescência.
Formato: MP4 • Nº de episódios: 22
Áudio: Inglês • Legenda: Português
Download: HTTP • Armazenamento: Pastas
Dificuldade para baixar? Clique Aqui
• Lista de Episódios •
3×01 – Settlement Pacifier Attic Unsyncing
3×02 – Bunny Single Nightmare Drinking
3×03 – Treasure Ride Poker Hearing
3×04 – Testosterone Martyr Baked Knife
3×05 – Meal Potty Cart Middle
3×06 – Waffle Permission Kidless Boyfriend
3×07 – Thirty-Five Teacher Escape Lottery
3×08 – The Twelve Shorts of Christmas
3×09 – Reading Egg Nurse Neighbor
3×10 – Emergency Interview Driving Lunch
3×11 – Goose Friends Auction Fog
3×12 – Stuck Fertility Toilet Shaving
3×13 – Therapy Cheating Shoes Movie
3×14 – Parents Ancestry Coupon Chaperone
3×15 – Graffiti Cute Jewelry Shots
3×16 – Pageant Bike Animals Jerky
3×17 – Sitter Dating Sister Mattress
3×18 – Renter Portrait Plagiarism Scam
3×19 – #TBT: House Destiny Introduction Retirement
3×20 – Lingerie Cookbook Gamble Surrogate
3×21 – Video Piercing Model Hangover
3×22 – Sixteen Spanish Car Leak (Season Finale)
Link quebrado? Avisem-nos.