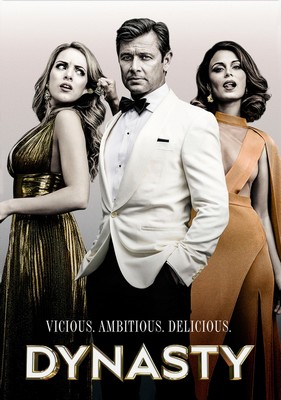 Reboot da série de mesmo nome exibida entre 1981 e 1989, Dynasty é co-escrita por Josh Schwartz e Stephanie Savage, nomes por trás de Gossip Girl, e por Sallie Patrick, produtora de Revenge. O reboot acompanha duas das famílias mais ricas da América, os Carringtons e os Colbys, mostrando relações conflituosas em função do dinheiro e dos filhos. A série será contada principalmente pelas perspectivas de duas mulheres em desacordo: Fallon Carrington (Elizabeth Gillies, de Sex&Drugs&Rock&Roll), filha do bilionário Blake Carrington, e sua futura madrasta, Cristal Flores (Nathalie Kelley, de Body of Proof, UnREAL e The Vampire Diaries).
No elenco também estão James Mackay, Sam Adegoke (Switched at Birth), Alan Dale (Hot in Cleveland, Dominion, Once Upon a Time), Robert Christopher Riley (Elementary, Underground), Rafael de la Fuente (Empire), Grant Show (The Family, Devious Maids), Wakeema Hollis e Khaneshia 'KJ' Smith (vista em Queen Sugar).
Formato: MP4 • Nº de episódios: 22
Áudio: Inglês • Legenda: Português
Download: HTTP • Armazenamento: Pastas
Dificuldade para baixar? Clique Aqui
• Lista de Episódios •
1×01 – I Hardly Recognized You
1×02 – Spit It Out
1×03 – Guilt is for Insecure People
1×04 – Private as a Circus
1×05 – Company Slut
1×06 – I Only Exist for Me
1×07 – A Taste of Your Own Medicine
1×08 – The Best Things in Life
1×09 – Rotten Things
1×10 – A Well-Dressed Tarantula
1×11 – I Answer to No Man
1×12 – Promises You Can't Keep
1×13 – Nothing But Trouble
1×14 – The Gospel According to Blake Carrington
1×15 – Our Turn Now
1×16 – Poor Little Rich Girl
1×17 – Enter Alexis
1×18 – Don't Con a Con Artist
1×19 – Use or Be Used
1×20 – A Line from the Past
1×21 – Trashy Little Tramp
1×22 – Dead Scratch (Season Finale)
Link quebrado? Avisem-nos.