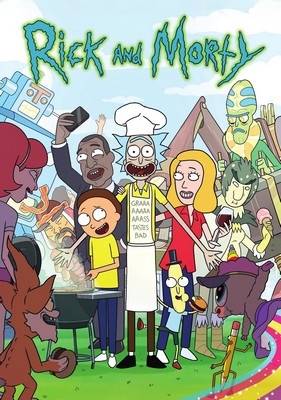 Rick and Morty é um desenho de ficção-científica criado por Dan Harmon (criador de Community) e Justin Roiland para o canal Adult Swim.
Rick é um velho mentalmente desequilibrado, mas dotado de um enorme talento científico, que recentemente se reconectou com sua família. Ele passa a maior parte do tempo envolvido em aventuras perigosas pelo espaço e em universos alternativos, sempre acompanhado de seu pequeno neto Morty.
Toda essa confusão, aliada à já instável vida familiar de Morty, começa a causar muitos problemas com os seus familiares e a escola de Morty.


Formato: MP4 • Nº de episódios: 10
Áudio: Inglês • Legenda: Português
Download: HTTP • Armazenamento: Pastas
Dificuldade para baixar? Clique Aqui
• Lista de Episódios •
2×01 – A Rickle in Time
2×02 – Mortynight Run
2×03 – Auto Erotic Assimilation
2×04 – Total Rickall
2×05 – Get Schwifty
2×06 – The Ricks Must Be Crazy
2×07 – Big Trouble in Little Sanchez
2×08 – Interdimensional Cable 2: Tempting Fate
2×09 – Look Who's Purging Now
2×10 – The Wedding Squanchers (Season Finale)
Link quebrado? Avisem-nos.