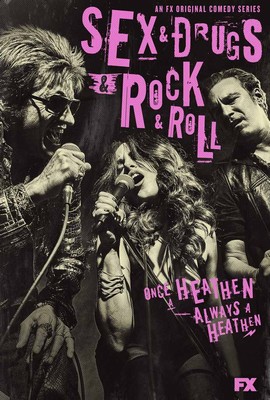 Criada e estrelada por Denis Leary (Rescue Me), Sex and Drugs and Rock and Roll é uma comédia musical que utiliza composições originais e ainda conta com a participação especial de celebridades do mundo da música.
Johnny Rock (Leary) é um roqueiro que na década de 1990 era líder da banda The Heathens. Os críticos adoravam a banda e os ingressos de seus shows sempre esgotavam. Mas os problemas de Johnny com o álcool e as drogas custaram sua carreira. Isto, e o fato dele ter dormido com a esposa de Flash (John Corbett, de Sex and the City e United States of Tara), seu melhor amigo e guitarrista da banda. É claro que ela não foi a única, Johnny também se envolveu com a noiva de seu baixista, Rehab (John Ales). A banda se separou no mesmo dia em que o primeiro álbum chegou nas lojas.
Agora, vinte e cinco anos depois, Johnny quer recuperar o que perdeu, com a certeza de que, desta vez, dará mais valor ao que tem. Mesmo porque, já não é tão fácil para ele arranjar mulheres, e as drogas pesadas já foram substituídas por medicamentos.


Formato: mp4 • Nº de episódios: 10
Áudio: Inglês • Legenda: Português
Download: HTTP • Armazenamento: Pastas
Dificuldade para baixar? Clique Aqui
• Lista de Episódios •
1×01 – Don't Wanna Die Anonymous
1×02 – Clean Rockin' Daddy
1×03 – Lust for Life
1×04 – What You Like Is In The Limo
1×05 – Doctor Doctor
1×06 – Tattoo You
1×07 – Supercalifragilisticjuliefriggingandrews
1×08 – Hard Out Here for a Pimp
1×09 – Take My Picture by the Pool
1×10 – Because We're Legion (Season Finale)
Link quebrado? Avisem-nos.