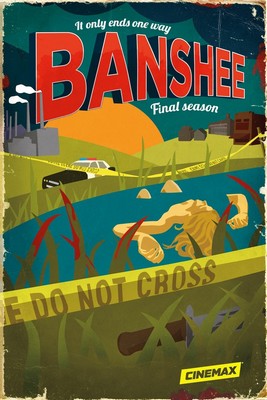 Criada por Alan Ball (True Blood, A Sete Palmos), com roteiros de Jonathan Tropper e David Schickler, Banshee gira em torno de um ex-condenado, especialista em artes marciais, que atua como xerife em uma cidade próxima a uma comunidade Amish, na Pensilvânia. No elenco estão Demetrius Grosse (Justified), Matt Servitto (Harry's Law e Brotherhood), Trieste Kelly Dunn (Canterbury's Law), Daniel Ross, Frankie Faison (The Wire), Cedric Stewart e Odette Annable.


Formato: rmvb • Nº de episódios: 08
Áudio: Inglês • Legenda: Português
Download: HTTP • Armazenamento: Pastas
Dificuldade para baixar? Clique Aqui
• Lista de Episódios •
4×01 – Something Out of the Bible
4×02 – The Burden of Beauty
4×03 – Job
4×04 – Innocent Might Be a Bit of a Stretch
4×05 – A Little Late to Grow a Pair
4×06 – Only One Way a Dogfight Ends
4×07 – Truths Other Than the Ones You Tell Yourself
4×08 – Requiem (Series Finale)
Link quebrado? Avisem-nos.