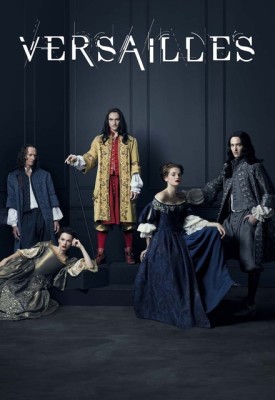 Criada por David Wolstencroft (The Escape Artist) e Simon Mirren (Criminal Minds), a série narra a trajetória dos moradores do palácio de Versalhes, desde sua construção. Ela contará com figuras históricas contracenando com personagens fictícios.
A trama gira em torno de diversos personagens que fazem parte da corte de Luís XIV (Nathaniel Spender, na fase infantil, e George Blagden, de Vikings, na fase adulta). Aos 28 anos de idade, Luís dá início à construção do palácio com o objetivo de tranformá-lo em uma 'gaiola dourada' para ter o poder absoluto. Estrategista, manipulador, maquiavélico e paranóico, ele planeja controlar a nobreza. Neste meio tempo, mantém um relacionamento com a cunhada Ana (Dominic Blanc), mulher de seu irmão gay, Filipe I (Alexander Vlahos, de Merlin).
No elenco também estão Amira Casar, Tygh Runyan (Stargate Universe), Stuart Bowman, Noémie Schmidt, Evan Williams, Anna Brewster (The Tudors, Silent Witness), Sarah Winter, Anatole Taubman (The Pillars of Earth), Lizzie Brocheré (American Horror Story, Braquo), Elisa Lasowski (Game of Thrones), Maddison Jaizani (Tyrant), Peter Hudson (Pigalle, La Nuit) e Gilly Gilchrist (Lip Service).


Formato: rmvb • Nº de episódios: 10
Áudio: Inglês • Legenda: Português
Download: HTTP • Armazenamento: Pastas
Dificuldade para baixar? Clique Aqui
• Lista de Episódios •
1×01 – Welcome to Versailles
1×02 – I am the State
1×03 – Mirror for Princes
1×04 – The Road
1×05 – Bow to Your King
1×06 – Invalides
1×07 – Revelations
1×08 – Diplomacy
1×09 – Etiquette
1×10 – Bring the Garden Here (Season Finale)
Link quebrado? Avisem-nos.