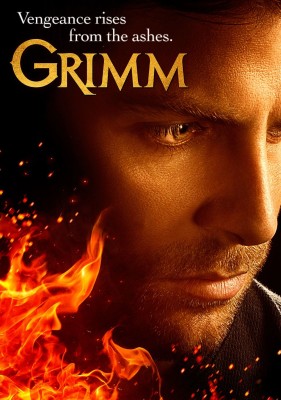 Esta é uma das séries mais aguardadas da nova temporada americana. "Grimm" é um drama policial que se propõe a contar em narrativa procedimental as investigações de crimes que podem ter sido cometidos por personagens que saíram dos contos de fadas. Criado por David Greenwalt, de "Buffy", e Jim Kouf, de "Angel", a série tem produção de Steve Oster (Carnivàle), Todd Milliner (Hot in Cleveland) e Sean Hayes (ator de "Will & Grace"), pela Hazy Mills Productions em parceria com a Universal Media Studios. Na história, Nick Burckhardt (David Giuntoli) é um policial da Homicídios que ao visitar sua tia (Kate Burton), descobre que ele é descendente de um um grupo de caçadores conhecido como "Grimms". Sua missão: manter a humanidade a salvo das criaturas do mundo sobrenatural. Explorando elementos de ficção e fantasia, "Grimm" parece ser uma produção que dará continuidade ao clima proposto por séries como "Arquivo X" e "Buffy, a Caça Vampiros".
Formato: rmvb • Nº de episódios: 22
Áudio: Inglês • Legenda: Português
Download: HTTP • Armazenamento: Pastas
Dificuldade para baixar? Clique Aqui
• Lista de Episódios •
5×01 – The Grimm Identity
5×02 – Clear and Wesen Danger
5×03 – Lost Boys
5×04 – Maiden Quest
5×05 – The Rat King
5×06 – Wesen Nacht
5×07 – Eve of Destruction
5×08 – A Reptile Dysfunction
5×09 – Star-Crossed
5×10 – Map of the Seven Knights
5×11 – Key Move
5×12 – Into the Schwarzwald
5×13 – Silence of the Slams
5×14 – Lycanthropia
5×15 – Skin Deep
5×16 – The Believer
5×17 – Inugami
5×18 – Good to the Bone
5×19 – The Taming of the Wu
5×20 – Bad Night
5×21/22 – The Beginning of the End (Season Finale)
Link quebrado? Avisem-nos.