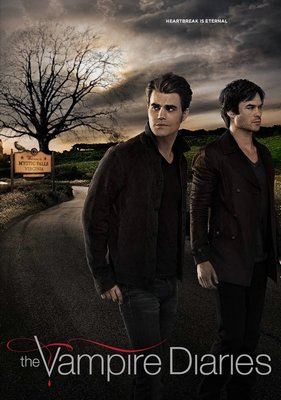 The Vampire Diaries é baseado na série de livros de L.J. Smith sobre dois irmãos vampiros – um mal e um bom – que competem pela alma de Elena Gilbert.
Elena sempre foi uma ótima estudante, linda, popular e envolvida com a escola e seus amigos. Quando o semestre começa Elena fica fascinada com o novo garoto da escola Stefan Salvatore, e ela não sabe que ele é um vampiro de séculos. Enquanto Stefan luta para viver em paz com os humanos, seu irmão Damon é a personificação da violência e brutalidade, e agora os dois estão em guerra pela alma de Elena na cidade de Mystic Falls, Virginia.
Formato: rmvb • Nº de episódios: 22
Áudio: Inglês • Legenda: Português
Download: HTTP • Armazenamento: Pastas
Dificuldade para baixar? Clique Aqui
• Lista de Episódios •
7×01 – Day One of Twenty-Two Thousand, Give or Take
7×02 – Never Let Me Go
7×03 – Age of Innocence
7×04 – I Carry Your Heart with Me
7×05 – Live Through This
7×06 – Best Served Cold
7×07 – Mommie Dearest
7×08 – Hold Me, Thrill Me, Kiss Me, Kill Me
7×09 – Cold as Ice
7×10 – Hell Is Other People
7×11 – Things We Lost in the Fire
7×12 – Postcards from the Edge
7×13 – This Woman's Work
7×14 – Moonlight on the Bayou
7×15 – I Would for You
7×16 – Days of Future Past
7×17 – I Went to the Woods
7×18 – One Way or Another
7×19 – Somebody That I Used to Know
7×20 – Kill 'Em All
7×21 – Requiem for a Dream
7×22 – Gods and Monsters (Season Finale)
Link quebrado? Avisem-nos.