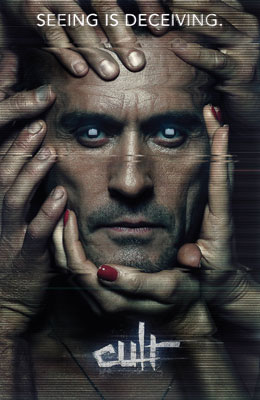 Trata-se de uma série dentro da série. Na história, Cult é uma série de TV que gira em torno de Kelly Collins (Alona Tal, de Supenatural), uma detetive que investiga as atividades de Billy Grimm (Robert Knepper, de Prison Break), líder de um culto. Muito popular entre os jovens, Cult pode estar sendo utilizada como fonte de inspiração para que pessoas na vida real pratiquem rituais de morte. Assim, Skye (Jessica Lucas, de Melrose Place), que trabalha como assistente de produção da série, se une ao jornalista e blogueiro Jeff (Matt Davis, de The Vampire Diaries) para investigar. O interesse de Jeff no caso é pessoal. Seu irmão desapareceu. Acreditando que ele possa ter sido uma das vítimas dos fãs de Cult, ele decide descobrir a verdade.
Formato: rmvb • Nº de episódios: 13
Áudio: Inglês • Legenda: Português
Download: HTTP • Armazenamento: Pastas
Dificuldade para baixar? Clique Aqui
• Lista de Episódios •
1×01 – You're Next
1×02 – In the Blood
1×03 – Being Billy
1×04 – Get With the Program
1×05 – The Kiss
1×06 – The Good Fight
1×07 – Suffer the Children
1×08 – The Devil You Know
1×09 – Off to See the Wizard
1×10 – The Prophecy of St. Clare
1×11 – Flip the Script
1×12 – 1987
1×13 – Executive Producer Steven Rae (Series Finale)
Link quebrado? Avisem-nos.