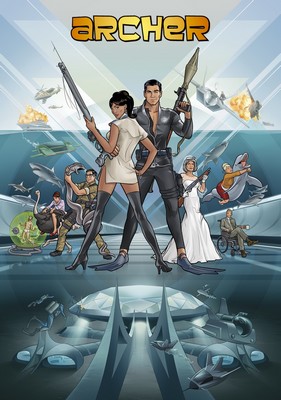 Archer tem como tema central histórias de espionagem com roteiros descontraídos. A produção é voltada para o público adulto, já que possui muitas cenas de sexo e violência. O criador da série, Adam Reed (Sealab 2021), tomou como base várias características de filmes e seriados de espionagem para a criação de "Archer". A animação possui episódios de meia hora, e mostra a rotina da International Secret Intelligence Service (ISIS), uma agência de espionagem onde a as missões são apenas oportunidades para seus funcionários altamente treinados se envolverem com histórias de traição, intrigas e romances. O espião mestre é Sterling Archer (dublado por H. Jon Benjamin), é um egoísta, irresponsável e pouco se importa com os outros, exceto com sua mãe Malory (Jessica Walter), que chefia a agência ISIS.


Formato: rmvb • Nº de episódios: 13
Áudio: Inglês • Legenda: Português
Download: HTTP • Armazenamento: Pastas
Dificuldade para baixar? Clique Aqui
• Lista de Episódios •
4×01 – Fugue and Riffs
4×02 – The Wind Cries Mary
4×03 – Legs
4×04 – Midnight Ron
4×05 – Vicious Coupling
4×06 – Once Bitten
4×07 – Live and Let Dine
4×08 – Coyote Lovely
4×09 – The Honeymooners
4×10 – Un Chien Tangerine
4×11 – The Papal Chase
4×12 – Sea Tunt, Part 1
4×13 – Sea Tunt, Part 2 (Season Finale)
Link quebrado? Avisem-nos.