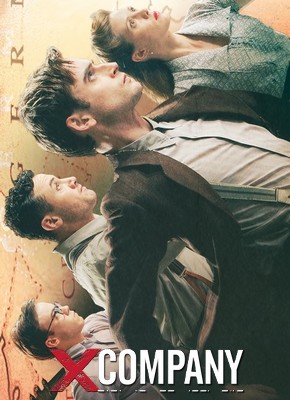 A história acompanha a vida de cinco jovens canadenses, americanos e britânicos que são recrutados para atuar como agentes em uma missão ultra-secreta em território alemão. Para tanto, eles são submetidos a um rigoroso treinamento em um campo secreto localizado nas proximidades do lago Ontário.
Entre os recrutas está Alfred Graves, um jovem que sofre de sinestesia, uma condição neurológica pela qual o estímulo de um sentido provoca a percepção em outro. Sua capacidade de memorizar informações o leva a se tornar uma importante arma secreta. Enviado aos campos de batalha, ele conhece Aurora Luft, uma jovem filha de judeu alemão e mãe franco-canadense, que se tornou uma guerreira na luta contra o nazismo.
No Camp X, eles aprendem diversas formas de sabotagem, assassinatos, demolição, de resgate e de leituras de códigos e mapas, bem como métodos de como recrutar jovens para atuar na resistência. Entre seus instrutores estão agentes do FBI e da Office of Strategic Services – OSS.
No elenco estão Evelyne Brochu (Orphan Black), Dustin Milligan (90210), Connor Price (Being Human), Lara Jean Chorostecki (Hannibal, Copper), Hugh Dillon (Flashpoint), Jack Laskey (Endeavour) e Warren Brown (Luther).
Formato: rmvb • Nº de episódios: 10
Áudio: Inglês • Legenda: Português
Download: HTTP • Armazenamento: Pastas
Dificuldade para baixar? Clique Aqui
• Lista de Episódios •
3×01 – Creon vs. Ixion
3×02 – Masquerade
3×03 – One for the Moon
3×04 – Promises
3×05 – Frontiers
3×06 – Supply and Demand
3×07 – The Hunt
3×08 – Naqam
3×09 – Friendly Fire
3×10 – Remembrance (Series Finale)
Link quebrado? Avisem-nos.