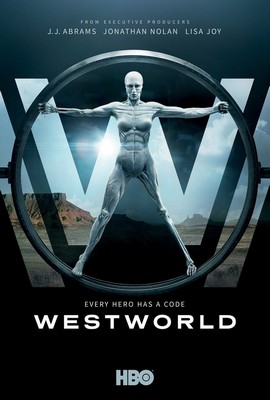 O mau-funcionamento de um robô provoca destruição e terror para um grupo de pessoas que passa férias no Westworld, um parque de diversões futurístico para adultos.
O Dr. Robert Ford (Anthony Hopkins, de Great Expectation) é o brilhante, taciturno e complicado diretor criativo, chefe de programação e presidente do parque, que tem várias ideias para melhorar o local – e métodos difusos de alcançá-las. Dolores Abernathy (Evan Rachel Wood, vista em True Blood) é uma típica garota de fazenda que vive na fronteira do parque, e está prestes a descobrir que toda a sua existência não passa de uma muitíssima bem elaborada e arquitetada mentira.
No elenco estão Rodrigo Santoro, Jimmi Simpson (Breakout Kings, House of Cards), James Marsden (30 Rock, X-Men), Thandie Newton (The Slap, Rogue), Jeffrey Wright (Boardwalk Empire), Shannon Woodward (Raising Hope), Angela Sarafyan (The Good Guys), Sidse Babett Knudsen (1864), Tessa Thompson (666 Park Avenue, Copper) e Clifton Collins Jr. (The Event, Ballers).
Formato: MP4 • Nº de episódios: 10
Áudio: Inglês • Legenda: Português
Download: HTTP • Armazenamento: Pastas
Dificuldade para baixar? Clique Aqui
• Lista de Episódios •
1×01 – The Original
1×02 – Chestnut
1×03 – The Stray
1×04 – Dissonance Theory
1×05 – Contrapasso
1×06 – The Adversary
1×07 – Trompe L'Oeil
1×08 – Trace Decay
1×09 – The Well-Tempered Clavier
1×10 – The Bicameral Mind (Season Finale)
Link quebrado? Avisem-nos.