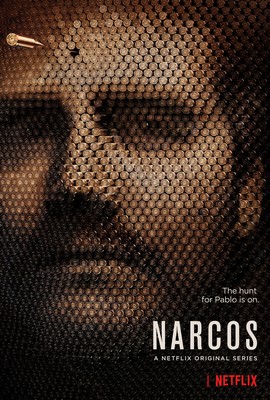 A série narra a história real dos esforços dos Estados Unidos e da Colômbia no combate ao traficante Pablo Escobar (Wagner Moura) e o cartel de Medellín durante as guerras do tráfico estimuladas pela cocaína nos anos 1980. Multidimensional e versátil, Narcos descreve um mundo brutal em que as linhas são tênues e quase toda moeda tem mais de dois lados.
No elenco estão Maurice Compte (visto em Breaking Bad), Boyd Holbrook (The Big C, Hatfields & McCoys), Pedro Pascal (Graceland, The Mentalist, Game of Thrones), Stephanie Sigman (The Bridge), Paulina Gaitan (The River), Juan Pablo Raba (Marvel's Agents of S.H.I.E.L.D), Raúl Méndez (Sense8, Texas Rising), Patrick St. Esprit (visto em Saving Hope e Sons of Anarchy) e Luis Guzmán.


Formato: MP4 • Nº de episódios: 10
Áudio: Inglês / Espanhol • Legenda: Português
Download: HTTP • Armazenamento: Pastas
Dificuldade para baixar? Clique Aqui
• Lista de Episódios •
2×01 – Free at Last
2×02 – Cambalache
2×03 – Our Man in Madrid
2×04 – The Good, the Bad, and the Dead
2×05 – The Enemies of My Enemy
2×06 – Los Pepes
2×07 – Deutschland 93
2×08 – Exit El Patrón
2×09 – Nuestra Finca
2×10 – Al Fin Cayó! (Season Finale)
Link quebrado? Avisem-nos.