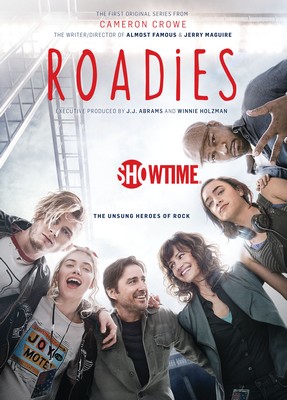 Criada por Cameron Crowe com produção de J.J. Abrams, Roadies acompanha os bastidores de uma turnê de Rock.
No elenco estão Luke Wilson (Enlightened) como Bill, o coordenador da turnê, um homem que dorme pouco e está há cinco anos sóbrio; Imogen Poots como Kelly Ann, a responsável pela parte elétrica dos shows, uma mulher com um grande coração, mas com problemas para se relacionar com as pessoas; Keisha Castle-Hughes como Donna Mancini, responsável pela mixagem de som; Peter Cambor (NCIS: LA) como Milo, guitarrista; Rafe Spall (The Shadow Line) como Reg Whitehead, responsável por supervisionar as despesas dos shows, apesar de não entender nada do mercado musical; Carla Gugino (Wayward Pines), como Shelli, a produtora da banda, uma mulher que se dedica totalmente ao seu trabalho; Colson Baker, Ron White, Luis Guzman, Jacqueline Byers (The Strain), Branscombe Richmond e Tanc Sade (Gilmore Girls).
Formato: rmvb • Nº de episódios: 10
Áudio: Inglês • Legenda: Português
Download: HTTP • Armazenamento: Pastas
Dificuldade para baixar? Clique Aqui
• Lista de Episódios •
1×01 – Life is a Carnival
1×02 – What Would Phil Do?
1×03 – The Bryce Newman Letter
1×04 – The City Whose Name Must Not Be Spoken
1×05 – Friends and Family
1×06 – Longest Days
1×07 – Carpet Season
1×08 – The All Night Bus Ride
1×09 – The Corporate Gig
1×10 – The Load Out (Series Finale)
Link quebrado? Avisem-nos.