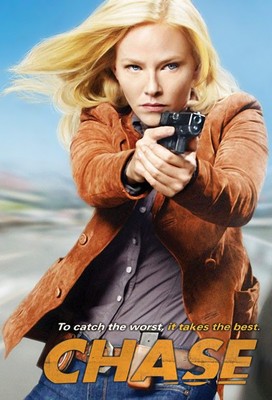 A história gira em torno de uma equipe policial especializada na caça de fugitivos perigosos. Annie Frost (Kelli Giddish, "Past Life") é a delegada responsável pela equipe. Filha de um criminoso que escapou da lei sem nunca ter sido encontrado, Annie está determinada a capturar sua presa, seja quem for. Para tanto, ela conta com a ajuda de Marco Martinez (Amaury Nolasco, "Prison Break"), Jimmy Godfrey (Cole Hauser) e Daisy Ogbaa (Rose Rollins, "The L Word"), além de Luke Watson (Jesse Metcalfe, "Desperate Housewives"), recém incorporado ao grupo. Cada episódio mostrará a equipe à caça de um criminoso fugitivo. Tal qual vemos na série forense "CSI", a produção de "Chase" pretende introduzir na trama os métodos científicos e os procedimentos utilizados na localização e captura de criminosos. O método empregado tem como base o comportamento adotado por fugitivos em geral, como a busca por comida, lugar para se esconder e pessoas a contatar, até as características do comportamento criminal do indivíduo que está sendo caçado.


Formato: rmvb • Nº de episódios: 18
Áudio: Inglês • Legenda: Português
Download: HTTP • Armazenamento: Pastas
Dificuldade para baixar? Clique Aqui
• Lista de Episódios •
1×01 – Pilot
1×02 – Repo
1×03 – The Comeback Kid
1×04 – Paranoia
1×05 – Above the Law
1×06 – Havoc
1×07 – The Posse
1×08 – The Longest Night
1×09 – Crazy Love
1×10 – Under The Radar
1×11 – Betrayed
1×12 – Narco, Part 1
1×13 – Narco, Part 2
1×14 – Father Figure
1×15 – Seven Years
1×16 – Roundup
1×17 – The Man At The Altar
1×18 – Annie (Series Finale)
Link quebrado? Avisem-nos.